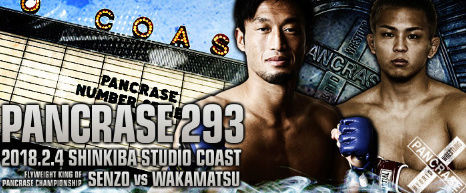 PANCRASE 293
February 4, 2018
 Shin Kiba Studio Coast Tokyo, Japan
Main Card:


Senzo Ikeda
 (11-6)       vs.        (9-1) 
Yuya Wakamatsu

Main Event |
 Title Fight | Flyweight | 125 lbs (57 kg)

Toru Ogawa
 (9-5)          vs.        (7-3) 
Shohei Masumizu

Co-Main Event | Flyweight | 125 lbs (57 kg)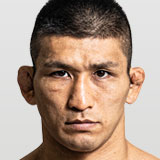 Akira Okada
 (12-5)        vs.           (23-6) 
Ricardo Tirloni

Main Card | Lightweight | 155 lbs (70 kg)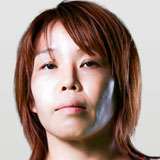 Takayo Hashi
 (15-6)          vs.        (4-1) 
Bárbara Acioly

Main Card | Women's Flyweight | 125 lbs (57 kg)

Hiroyuki Tetsuka
 (4-2)       vs.        (17-5) 
Glaico França

Main Card | Welterweight | 170 lbs (77 kg)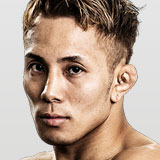 Suguru Nii
 (8-8)                 vs.     (11-3)  
Ismael Bonfim

Main Card | Featherweight | 145 lbs (66 kg)

Ayaka Miura
 (4-2)              vs.          (2-1)  
Ye Dam Seo

Main Card | Female Strawweight | 115 lbs (52 kg)

Akihiro Gono
 (35-22)          vs.    (2-0) 
Kyohei Wakimoto

Main Card | Lightweight | 155 lbs (70 kg)
Pancrase flyweight champion SENZO is going to face a number-one ranked Yuya Wakamatsu in Pancrase 293.
SENZO defeated the former champion Mamoru in August. He began training MMA at age 29 and became a champion in just five years.
Wakamatsu is the winner of 2016 Neo Blood tourney and the rookie of the year, and so far, he has won all of 8 fights in Pancrase. Wakamatsu is a prodigy of UFC / PRIDE veteran Ryo Chonan and he is just a 22-year old.
The nunmber-one ranked lightweight AKIRA is going to face Bellator FC veteran Ricardo Tirloni from Brazil.
Tirloni is a 34-year old veteran with 26 fights under his belt. He made a professional debut back in 2005. Signed with Bellator MMA in 2011 and posted a record of 3-5. After being released from Bellator MMA, Tirioni has been fighting in Brazil and won seven out of eight fights.
Hashi is going to take on Barbara Acioly from Brazil.
Pancrase sealed partnership deal with Invicta FC in October and Acioly is basically the first representative from the biggest all women's promotion in the world. She is 24-year old with a pro MMA record of 4-1. Acioly fought Karina Rodriguez in Invicta FC and lost via first round TKO but many felt that was an early stoppage.
Hashi fought Barb Honchak for the Invicta flyweight title back in 2014 so the winner of this fight probably will be looking to get back into Invicta cage sometime next year.
UFC and PRIDE veteran Akihiro Gono is going back to 170 lbs and will take on Kyohei Wakimoto.
Back in October, a 43-year old Gono fought in Pancrase for the first time in 12 years. He faced 3rd ranked AKIRA at 155 lbs but lost via unanimous decision.
After this fight Gono decided to go back to 170 lbs, "For this past two months I have been eating well everyday and I did emphasize on strength and conditioning training. Now, I am overflowing with energy and feels like when I was in junior high school. I think I can beat those fighters at the top of Pancrase ranking."
Wakimoto is 29 years old. He was the captain of Ritsumeikan University wrestling team and placed 2nd in 2010 All Japan University Wrestling Championships.

Kingfedor

Admin




Location

: Quebec


Posts

: 3161


Join date

: 2012-11-29



I'll look forward to this card, and I love the concept, in particular given the historical connection between Japanese and Brazilian martial arts.

I really don't know much of the detailed history, other than the standard stuff like Masuhiko Kimura and the Gracies, and also the example of Lyoto Machida, who comes from a family of Shotokan practitioners (the style of Ken and Ryu in Streetfighter).

But the linkage is unsurprising, given the large number of Japanese who immigrated to Brazil.

I really imagine the MMA scene now as more of a revival, than a new emergence. They didn't have internet, television and transcontinental flights back in the day. But they did have vale tudo, organized catch wrestling, and surely all kinds of organized competitive fights going on, with various rules. From the English wrestling and boxing styles across their empire, to French Savate, to all the Asian and Russian fighting styles.

But it's still a cool time to be watching all of it develop as it currently is. You can take the comparison of boxing, and the old school fighters could hang in any era, in my view. You take a top level champion in his prime, and you put anybody up against him, he is going to give it hell and expect to win, no matter what. If we could invent a time machine to truly match fighters prime-for-prime, my view is that we would have a lot of well-matched sporting contests, against primed athletes, and that era doesn't matter so much.
_________________

nodogoshi

Moderator




Location

: USA


Posts

: 4570


Join date

: 2011-11-15



I also think this goes along with a trend of trying to develop Japanese fighters. They seem to measure their fighters against international competition, sort of like how the British talk about a 'domestic' and 'international' scene in British boxing.
_________________

nodogoshi

Moderator




Location

: USA


Posts

: 4570


Join date

: 2011-11-15



I like the Japan vs. Brazil theme as well.
_________________
MMA Major Leagues: UFC, RIZIN, Bellator, KSW, PFL, ROAD FC, ONE, Fight Nights, M-1 Global
Isaiah 53, Daniel 9:25-27, Acts 4:12
http://www.godandscience.org/
https://www.youtube.com/watch?v=TVkdQhNdzHU
https://www.youtube.com/watch?v=tzj8iXiVDT8

CDF47

G-MMA Rankings & Moderator




Location

: United States


Posts

: 11849


Join date

: 2011-12-04



---
Permissions in this forum:
You
cannot
reply to topics in this forum